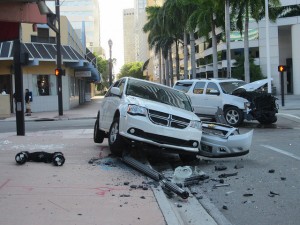 For years now various car companies have been developing the technology for automated cars. What was once a long-away dream, may soon be reality.
In an article, the South Florida Sun Sentinel explored just how drivers in Southern Florida would be affected by the new technologies. Driverless cars will affect everything from the width of the driving lanes to speed limits. Due to the driverless cars' technology, driving lanes will become narrower, there will be fewer public parking lots, speed limits will increase, there will be flyover ramps at intersections, and there may even be more shortcuts through neighborhoods.
The reason for this is that all of the automated cars will be able to not just communicate with each other, but also with the traffic signals and roads. All of this technology will be used to prevent accidents with other vehicles, pedestrians, bicycles, and anything else (like deer or fallen tree branches).