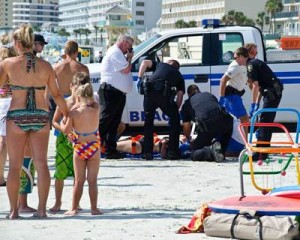 The Boating Accident Injury Lawyers at Wolfson & Leon have reviewed the 2015 Boating Accidents Statistical Report which was published by the Florida Fish and Wildlife Conservation Commission. The results were shocking. The Florida Keys and Broward County led the state in boating related deaths with five boating-related deaths each. If you or a loved one were injured in a boating accident, you should call the Miami Boating Accident Personal Injury Attorneys for a free consultation today at (305) 285-1115.
Boating Accident Statistics
Here are the important facts you should know when it comes to boating safety in Florida:
In Florida, there was a 25% drop in boating deaths in 2015. In 2014, 73 deaths were related to boating accidents. In 2015, that number dropped to 55. The Boating Accident Report does not count diving or snorkeling deaths when tabulating boating-related deaths.
Miami-Dade was first and Monroe County second in reportable boating accidents. The term "reportable boating accidents" are defined in the 2015 Boating Accidents Statistical Report as those accidents involving injury, death, boat loss or causing more than $2,000 in damage.
96 major boat accidents happened in Miami in 2015. Those accidents caused over $3 million in damage with three fatalities and 74 personal injuries.
Monroe County reported 78 major boating accidents. Those incidents caused five fatalities and 48 personal injuries. Property damage from these boating accidents was estimated at over $646,000.
Broward County reported 57 boating accidents, five fatalities and 42 personal injuries. As a result, Broward came in third among the Florida's 67 counties.
According to the FWC report. "Nearly half of boating accidents in 2015 involved collisions and 34 percent of all collisions were due to inattention or the operator failing to maintain a proper look-out"
Importantly the report states: "It is critical for operators to maintain a proper lookout and focus on what is going on around their boat at all times." According to Lt. Seth Wagner of the Florida Wildlife Commission's Boating and Waterways Section.
Over half of Florida's 55 boating deaths were caused by drowning.
Florida is first in the United States in registered and unregistered boats and crafts. Florida has 915,713 registered boats, and it is estimated that Florida has over 1 million unregistered craft such as canoes, kayaks, and paddleboards.
Examples of Boating Accidents and Tragedies
When a boating accident happens, it affects your entire circle of family and friends. Here are some examples of recent boating tragedies:
In Monroe County a 55 year old man died while operating his personal-watercraft in October of 2015. He crashed into a boat that was anchored in Tarpon Basin in Key Largo. This accident happened at 1 am and alcohol was involved. In addition, personal water-craft like jet-skis are prohibited from operation at night.
A 64 year old man died on his 17 foot boat when it crashed into the mangroves close to Jewfish Creek Bridge at 4 am in May of 2016. He was impaled after his crash by the branch of a tree. His passenger also suffered serious personal injuries.
A 68 year old personal injury attorney died in the Lower Keys when his boat capsized. His passenger was rescued and survived.
A 67 year old man from Key West disappeared from his 25 foot commercial fishing boat and was presumed dead. He was never found.
Miami Boating Accident Injury Attorneys
If you or a loved one was injured in a boating accident, our Miami Serious Personal Injury Lawyers at Wolfson & Leon can help. Our lawyers are boat owners themselves and one of our boat safety attorneys served in the Coast Guard. If you would like to get answers to your questions and find out more, just call us at (305) 285-1115 for a free consultation.
Our Boating Accident Injury Lawyers serve clients in Key West, Marathon, Islamorada, Key Largo, Key Biscayne, Gables-by-the-Sea, Coconut Grove, Miami, Miami Beach, Dania, Hollywood, Fort Lauderdale, Pompano Beach, Lauderdale-by-the-Sea, and Palm Beach.