Classes at Miami Dade College's Liberty City Campus resumed after a fiery car crash killed one person and injured three.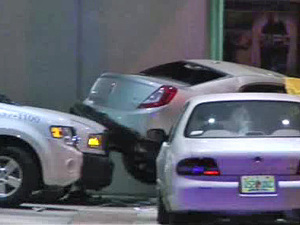 The four-door, silver Lincoln sedan was speeding on Northwest Seventh Avenue before it clipped a light post and crashed into a building. The car was reported stolen on Aug. 18. According to the Miami Police Department, the vehicle exploded immediately after impacting the wall.
The driver of the Lincoln ran away from the accident and left four passengers inside the burning car. One passenger died when the officers arrived.
Administrators cancelled classes at Carrie P. Meek Entrepreneurial Education Center for most of Tuesday.
According to witnesses, people at a nearby bus stop were barely missed by the speeding vehicle as it spun out of control and crashed into the campus entrance. One witness ran to the car to see if he could help. Pieces of the car scattered across the street and sidewalk.
As of Tuesday evening, the identities of the victims were not released. The three passengers were rushed to Jackson Memorial Hospital. According to Miami police, one of the injured was in critical condition.
The driver later checked into Jackson Memorial where he was detained by police. The charges and the name of the driver were not immediately released.
Wolfson & Leon: Miami Personal Injury and Accident Lawyer
When it comes to car accidents, especially in cases involving injury or a fatality, there's no substitute for good legal representation. After 50 years of experience, the accident attorneys at Wolfson & Leon have earned a reputation for accident, injury and wrongful death cases.
Civil litigation can be a complicated process, and Wolfson & Leon will evaluate your case to find the fastest way to earn damages. The firm's website, WolfsonLawFirm.com, features a long list of cases that were settled before any lawsuit was filed. Having the right representation can save you time and maximize the compensation you receive for injuries and lost wages.
Although it can be difficult to put a time estimate on a case, many settle as quickly as a few days after the accident. For more information, visit WolfsonLawFirm.com. You can also call 305-285-1115 for a free case evaluation.