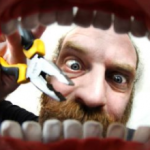 WEST PALM BEACH – Thomas Floyd, DDS has had his license suspended. He was arrested for hitting a 4 year old patient. One mother, Shayla Barnes, reported that several of her children were abused. Another allegation was from a 7 year old girl who indicated that she was told to shut up and that Dr. Floyd stuffed a dental bib in her mouth, grabbed her by the hair, and pushed on her forehead to hold her back in the chair.  
Cases like this are uncommon. And when children are involved, they are especially upsetting.  Cases against dentists are subject to the notice, service, and stringent expert requirements of Florida's Medical Malpractice Laws.  Similarly, there are caps to recovery.  When there is unnecessary treatment or treatment for which consent was not obtained, it is usually grounds for recovery.
Now, many times, especially in dental cases, lawsuits are not warranted because the damages do not live up to the amount of time and money that needs to be invested to pursue a case for dental negligence.  However, in such a case, one can file an administrative complaint against the dental practitioner's license.  To file a complaint with the Board of Dentistry like many of the parents (about 50 or so) did against Dr. Floyd, go to http://doh.state.fl.us/mqa/enforcement/enforce_home.html.  
You may not receive compensation, but the process could give you a sense of justice.