April, 22, 2013, Miami, FL- Accidents by their very nature and definition occur due to unforeseen circumstances. People frequently cause accidents because of distraction, inattention, or other negligence. But on some occasions accidents are caused by road debris or other obstructions, like a recent fatal collision on the Florida turnpike which killed an adult and injured a 13 year-old girl.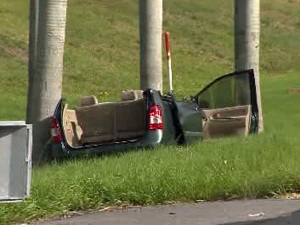 Last Saturday, April 20th, Amalia Ramirez-Marquez, 46, was driving south on the Florida Turnpike near Southwest Eight Street with her 13 year-old daughter when she encountered some debris in the road. Ramirez-Marquez attempted to avoid the debris but was unable to, she and lost control of her vehicle. The 2001 Mazda spun around onto a grassy median then slammed into a tree, CBS Miami reported.
The female driver was killed on impact. Her daughter was taken to a Miami hospital in stable condition.
Accidents caused by road debris are not always as devastating, but they can leave people seriously injured and cause extensive property damage.
Obstructions in the road lead to erratic moves by a driver, they may have to change lanes or brake suddenly, causing them to collide with another vehicle.
Keeping highways maintained and clear of debris is the responsibility of state and federal governments, but pursuing either for compensation is difficult. The accident victim has the burden of proving that the government was aware of obstructions in the roadway and failed to clear it away in a reasonable period of time.
Often times when a driver happens upon a hazard in the road, the vehicle that left the debris has gone and cannot be identified, making it impossible to prove liability and collect compensation.
When accidents occur where it is difficult to determine liability, the injury victims or families of the deceased will have to rely on a settlement from their insurance company. Before agreeing to an insurance settlement, accident victims should speak to a personal injury attorney to get an idea of the amount of compensation they are entitled to.
With road debris accidents, there are the rare occasions when the injured is able to pinpoint the driver who left the debris behind. If the accident victim saw the obstruction coming from a vehicle and was able to get the license plate number they can pursue that driver for damages.
Victims of traffic accidents face mounting medical bills and if their injuries were serious enough they may lose weeks or months out of work, some injury victims are never able to work again. These victims shouldn't have to worry about how they are going to pay their bills and put food on the table and with the help of a Miami accident attorney they won't have to.
Studies have shown that accident victims who retain an attorney receive more compensation than those who go it alone. Miami injury attorney Jonah Wolfson wants you to get the compensation you deserve and is ready to tackle your case and maximize your final settlement.