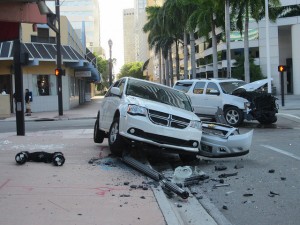 For years now various car companies have been developing the technology for automated cars. What was once a long-away dream, may soon be reality.
In an article, the South Florida Sun Sentinel explored just how drivers in Southern Florida would be affected by the new technologies. Driverless cars will affect everything from the width of the driving lanes to speed limits. Due to the driverless cars' technology, driving lanes will become narrower, there will be fewer public parking lots, speed limits will increase, there will be flyover ramps at intersections, and there may even be more shortcuts through neighborhoods.
The reason for this is that all of the automated cars will be able to not just communicate with each other, but also with the traffic signals and roads. All of this technology will be used to prevent accidents with other vehicles, pedestrians, bicycles, and anything else (like deer or fallen tree branches).
With fewer accidents, traffic flow will greatly improve. Moreover, because existing lanes can become narrower, the government can add more lanes to the road, allowing for the road to handle more cars. This is because experts expect the automated cars to be able to pass each other within only 2.5 inches.
Florida Prepares for Automated Vehicles
With the knowledge that automated cars may soon be on the roads in Florida, two lawmakers think that it is past time for the Florida legislature to adapt to the new realities.
In January of this year, Republican State Rep. from the 16th District Jason Fischer filed a bill with the Florida state legislature in an effort to start addressing the necessary changes that come with automated cars. The bill tries to establish Florida as a pioneer in the world of automated cars by changing the legal definitions.
Specifically, the bill (HB 311) alters the law and would not require a licensed human operator to operate a vehicle that is fully autonomous. While it may be a slight change, the effect would be tremendous. That means that a human does not have to ultimately be in charge of the car. Many state legislatures have contemplated allowing drivers to have the car on auto-pilot, but still force them to be ready to jump in at any moment to take control of the vehicle. Technically, the bill will allow automated vehicles on the road even if there is not a human passenger.
HB 311 will also exempt automated vehicles involved in a crash from certain laws so long as a law enforcement agency is contacted. Current laws require an operator with a valid driver's license to remain at site of the accident and speak with local law enforcement agencies.
However, if the vehicle is capable of contacting the proper authorities after an accident, then there would no longer be a need to require a person to remain at the site of the accident. An automated car could quickly and efficiently not only contact the authorities, but also send the authorities accurate information describing the details of the accident. For example, it could send to the authorities exactly what caused the crash, quickly determining who or what was responsible for it.
Further, the bill would allow the Florida Turnpike Enterprise to create test facilities and allow for an automated ride-sharing platform. The Florida Turnpike Enterprise oversees Florida's extensive turnpike system, which includes nearly 500 miles of toll roads. Currently, the Florida Turnpike Enterprise is partnered with the Florida Department of Transportation, Florida Polytechnic University, and the Central Florida Automated Vehicle Partners to run a testing facility called the Suntrax, which is set to open in April of this year.
The removal of this safety net shows how much confidence Rep. Fischer has in the technology. However, with that, many safety experts recognize that we are still many years, if not decades, away from fully implementing such technology.
Rep. Fischer, however, is positive that the technology allowing fully driverless vehicles to be run by software systems is close at hand, and will soon be ready for everyday use. He wants to make sure that Florida is a leader with the new technology, and thinks that the first step is to start changing the law.
In defending his bill, Rep. Fischer stated, "Technology is advancing at a rapid pace, and Florida has a unique opportunity to be at the forefront of autonomous vehicle policy. Autonomous technology has the capability to eliminate human error on our roadways, making everyday modes of transportation safer for Floridians."
Rep. Fischer also noted that there could be significant economic and social benefits from the legislation. He stated, "I see all kinds of economic opportunity, but I also see opportunity for freedom. It increases mobility for our society in a way that's hard to quantify – for people with disabilities, people who are vision-impaired, or cannot drive at night."
HB 311 has been given early endorsements from a wide range of organizations such as the AARP.
The head of AARP Florida said in a statement that "[i]f done right, automated vehicles can do something truly remarkable and historic: they can better enable people, especially those with disabilities, regardless of age, geographic location, or socio-economic factors, to have choices in mobility and delivery opportunities that more fully meet their needs and help combat social isolation. We applaud Representative Fischer and other legislators for bringing the issue forward, to make Florida age-friendly for all of its residents."
State Senator Jeff Brandes, a Republican who represents St. Petersburg, is expected to fill the bill's Senate version. Both bills will be the subject of debate and will undoubtedly go through several drafts. The spring session of the Florida legislator will begin March 5th.
While automated cars will have to comply with Florida's traffic and motor vehicle laws, they will also have to comply with federal laws. This includes important federal safety standards. But, if the bill passes, the automated cars will be exempt from certain requirements and safety restrictions that are currently imposed upon human drivers. Passengers in automated cars would be able to watch movies or even sleep. It will certainly be interesting to see just how Florida deals with the emergence of automated cars.
Florida Automated Car Accident Lawyers
When the time comes, you can be certain that the Florida car accident lawyers at Wolfson & Leon will be ready to serve victims injured in any type of automated vehicle accident. Since 1963, our Florida accident attorneys have fought for and defended the rights of injured victims throughout Florida. We have offices in Fort Myers, West Palm Beach, Miami and Fort Lauderdale. In addition, we represent personal injury clients throughout Florida including the communities of Tampa, Florida Keys, Jacksonville, Orlando, Naples, Sarasota and North Florida. Feel free to call us if you are injured in any kind of accident at 305-285-1115 and we will gladly provide you with a free consultation.