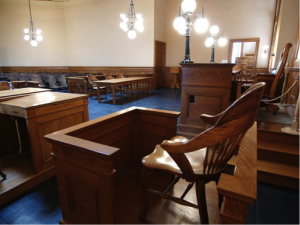 The Florida Courts seem determined to factually analyze every substance known to man and whether that substance and the specific condition it is in can serve as evidence of constructive notice.  Constructive notice is important in slip and fall cases these days because Florida Statute 768.0755 places the burden on the plaintiff to prove that a business establishment had constructive notice.  The only other way to have a case, per the statute, is to show that the condition occurred with regularity or that the defendant had actual knowledge of the substance.  So, in Florida, we have a body of case law that goes substance by substance and picks apart the substance from a factual basis to determine whether the person who slipped on that substance has a material issue of fact that can be presented to a jury.  This case by case analysis goes from fruit to fruit and frozen substance to frozen substance.  There seems to be no end to the various foods, chemicals, compounds, molecules, drinks, and items of all kinds that the Florida Courts will look at.
If you look at the history of the case law, there is some irony in all of this.  The Courts have ruled upon thawed ice cream (Camina v. Parliament Insurance, 417 So. 2d 1093 (3rd DCA 1982)), partially frozen peas (Teate v. Winn-Dixie, 524 SO. 2d 1060 (3rd DCA 1988)), partially liquified orange juice concentrate (Grizzard v. Colonial Stores, Inc., 330 So. 2d 768 (1st DCA 1976)), dirty water (Encarnacion v. Lifemark Hospitals of Florida, 211 So. 3d 275 (3rd DCA 2017), and other substances.  The irony is that the evaluation that they are supposed to be making is whether there is any issue as to material fact.  But, in analyzing the substances down to the molecules, most of these cases seem to make factual determinations that should be within the sole province of a jury.  It seems inconsistent to say that there must be an absence of a material issue of fact and then spend considerable time factually picking apart, analyzing, and determining that a substances specific condition does or does not tend to prove constructive notice.  Going on a case by case basis and looking at each substance and how it may or may not serve as evidence of constructive notice is no different than the job a jury, in the end, must do.
Now, recently, on February 19, 2020, the Fourth DCA ruled upon a grape.  In Oliver v. Winn-Dixie Stores, (No. 4D19-291), the 4th DCA held that a clear and dirty liquid with a red or purple speck in it that looked like it had been smeared upon the ground was not enough for Brandy Oliver to get to a jury.  They cited the absence of wheel tracks and footprints and found there to be no issue of material fact.  The 4th DCA leaned upon the testimony of an employee that he passed by the area repeatedly and that the floor was clean and dry moments before the fall.  But, apparently, there was a video that was not part of the record.  And, this video, according the Plaintiff, tended to show he was not looking carefully.  Moreover, there was no discussion whatsoever of how the condition was created.