In August 2018, Miami drivers were introduced to Diverging Diamond Interchanges. It began on NW 27th Avenue and State Road 836 (Dolphin Expressway). The second area for implementation is NW 57th Avenue and the Dolphin Expressway (SR 836) which will come in the next few months. At the present time, DDI's are also planned for five locations in Broward County. All of the Broward Diverging Diamond Interchanges will be installed at the intersections of the Sawgrass Expressway and:
Sunrise Boulevard
Oakland Park Boulevard
Commercial Boulevard
Sample Road
Coral Ridge Drive
At Wolfson & Leon, our Miami car accident lawyers are very concerned for the safety of drivers who encounter these interchanges – especially for the first time.
Use of Diverging Diamond Interchanges
The Diverging Diamond Interchanges (DDI) originated in France in the 1970's. An early version of it was used in Versailles, Seclin and Le Perreux-sur-Marne. In 2009, a DDI was implemented in Springfield, Missouri. Since that time more than 90 other sites in the Untied States have installed these interchanges. As of 2018, Diverging Diamond Interchanges are being used globally in the following locations and frequency:
102 in the United States of America
3 in France
2 in South Africa
2 in Canada
2 in Saudi Arabia
1 in Malaysia
1 in Denmark
1 in the United Arab Emirates
DDI's are designed to reduce potential crashes and improve traffic flow thereby reducing congestion. In standard highway and interstate exchanges 26 conflict points can be found. Each of these points represent potential points of impact for vehicles and pedestrians. DDI's reduce those points of impact to 14.
Below is a basic diagram of the Diverging Diamond Interchange: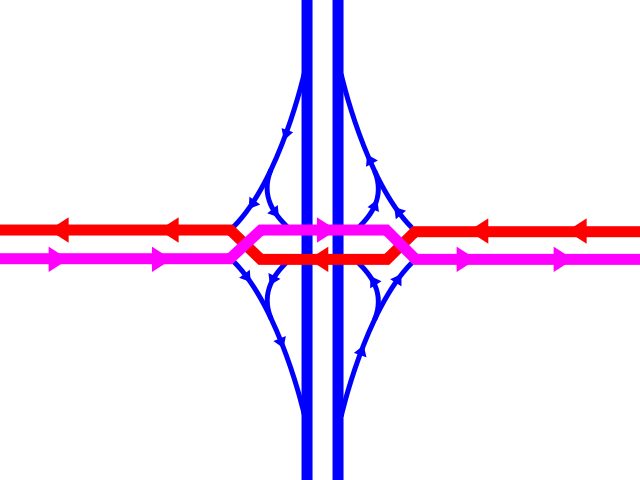 The disadvantages of DDI's are:
Bus stops must be outside the interchange
Traffic signals for both directions can never be green simultaneously which means at no time is the traffic flowing in both directions at the same time.
Pedestrian crossings are increased because of the design
Driver confusion especially when driving on the opposite side of the road
Advantages of DDI's include:
Decreased costs in comparison with standard interchanges
By removing turn lanes, capacity for the number of vehicles in the area is increased
Improves safety and ease of turns to and from ramps
Shorter signal lengths of two phases
Once the interchange is fully installed and drivers are more familiar with it, traffic congestion should improve and the rate of accidents should decrease. But the road from implementation to smooth operation could be dangerous for drivers, passengers and pedestrians. If the interchange is not properly marked with clear directions and warnings, we can expect needless car accidents and injuries to occur.
In Miami, law enforcement officers were on the scene for the first day of the Diverging Diamond Exchange at NW 27th Avenue and the Dolphin Expressway. These officers were expected to remain at the scene to assist drivers, but it is unknown for how long we can expect them to be present. Even with the presence of police, drivers were slow to adapt.
People generally resist change. The folks in Miami are no different. It is the hope of our Miami car accident attorneys that the interchange is properly and clearly marked and that all the drivers are patient and practice good defensive driving techniques. Automobile accidents are a part of life in South Florida but hopefully these Diverging Diamond Interchanges will, over time, reduce congestion and crashes.
Miami Car Accident Lawyers
At Wolfson & Leon, our car accident lawyers in Miami have helped injured victims and survivors of wrongful death since 1963. If you or a loved one are injured in a car accident in the Diverging Diamond Exchanges or any where else in Florida, then give us a call for your free consultation. Allow us the opportunity to listen to you and present you with a plan of action for you to get the full and fair compensation the you deserve. Call us today at (305) 285-1115.
Wolfson & Leon has offices for appointments in Fort Lauderdale and West Palm Beach where you can reach us toll-free at (855) 982-2067. We also have an personal injury office in Fort Myers which serves the communities of Naples, Fort Myers, Cape Coral and Lehigh Acres. You can call our Fort Myers car accident lawyers at (239) 777-9954.