About one year ago, a Miami mother went in for a breast-augmentation surgery. She was healthy, fit and described as vivacious. Complications during surgery caused her to lapse into a coma. After suffering brain damage, she is now excited when she is able to move her feet or string more than a few words together.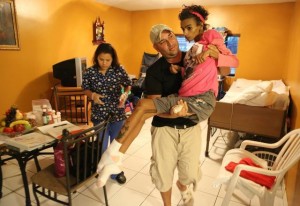 The Miami Herald reports that Linda Perez's family is filing a medical-malpractice lawsuit against the surgeon who performed the breast augmentation. As the news of the impending lawsuit spread, new details have emerged about the surgeon and Perez's current physical state.
Her Parents Were Advised To Take Her Off Of Life Support While She Was In A Coma
Just after her procedure, her anesthetist noticed that his patient's heart rate was beginning to slow. Soon, it became low enough that he decided to begin chest compressions and administer atropine in an attempt to save her life. She was taken to the emergency room, but the hospital staff were unable to get her to regain consciousness.
She was in a persistent vegetative state for weeks, and her doctors told her family that she had suffered brain damage due to a lack of oxygen. They advised the Perez family that it may be time to think about taking her off of life support because there was little chance that she would ever wake up.
If you or a loved one has been injured due to the negligence of a doctor or other medical professional, you have every right to seek reimbursement for your injuries. Whether you were injured during a surgery, through a misapplication of medicine or because of a failure to diagnose, we can help you find justice.
At Wolfson & Leon, LLP, we have more than 50 years of experience, so if you need a personal-injury lawyer in Miami, Call Us At 305-285-1115 Today!
Now, Perez Is Left With Life-Altering Disabilities And Requires Around-The-Clock Care
Her parents are happy that they ignored the doctor's advice because she woke from the coma. Although she is alive, she will never lead a normal life. Due to the brain damage, Perez's control of her body is compromised. She is unable to move more than her fingers and toes, and she is only able to speak a few words.
Sadly, her parents say that she often seems to realize what has happened to her. In those brief moments of clarity, she cries uncontrollably. Pictures that have surfaced show an unrecognizable Perez. She is incredibly thin, and until recently, she was unable to eat without the assistance of a feeding tube.
No one should have to suffer as Perez has, but the sad fact is that there are many victims of medical malpractice every year. If you feel that your injury came as the result of malpractice, please contact us as soon as possible. We can help you seek the compensation you need to pay for you current and future care. To schedule a free consultation, Call Us At 305-285-1115 Today!