Ismael Martinez and his son, Fidel Durante, were working on a concrete project on the side of the road when the accident happened. CBS Miami reports that it was early in the morning, and they were walking from their work truck to the project site when the driver of an SUV lost control of her vehicle and hit the two pedestrians. Durante was clipped and only received minor injuries, but his father was not so lucky.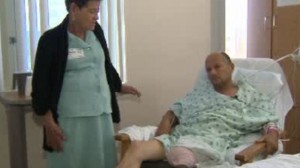 The SUV ran over Martinez, throwing him to the ground and nearly severing his leg. The driver quickly drove away and was nowhere to be found when the police and paramedics arrived. Martinez was taken to Ryder Trauma Center for treatment. His surgeons performed four surgeries in an attempt to save his leg, but a series of serious infections forced them to amputate below the knee.
Two weeks later, Martinez says that he is starting to feel better. Until the past few days, he wasn't able to sleep for more than a handful of minutes because of the excruciating pain that the surgeries caused him. He says that he can't remember much of the accident; the only thing that he can remember clearly is the moment that impact occurred.
Police Caught Up With The Hit-And-Run Driver Who Has Been Arrested For Leaving The Scene
Police tracked the SUV to Johanna Cabrera. When they found her, she told them that she didn't realize she had hit a person, though the police have released the fact that her windshield was splattered with the victim's blood.
She was arrested and charged with leaving the scene of an accident and driving without a license. The number of hit-and-runs has increased dramatically in recent years, and, in response, prosecutors all over the country have been cracking down on drivers who leave the scene of an accident.
If you have been injured in a pedestrian accident, and the driver who hit you left but was later found, you may be entitled to compensation that can help you pay for your medical bills. At Wolfson & Leon, LLP, we are dedicated to helping Miami residents find justice through personal-injury lawsuits. To speak with an attorney about your case, Call Us At 305-285-1115 Today!
Martinez Faces A Long Road To Recovery And Says He Is Worried About Providing For His Family
Doctors have told Martinez that he shouldn't expect to walk normally with a prosthetic for at least a year. During that time, he will be unable to work and unable to provide for his family. He will also need to undergo months of painful and expensive physical therapy.
Personal-injury laws were created to protect people like Martinez. They could allow him to recover the money he needs to pay for his surgeries, prosthetics and physical therapy. A personal-injury claim could also help him provide for his family while he is unable to work. If you find yourself in a similar situation, we urge you to contact us and schedule a free case evaluation. Call Us At 305-285-1115 Today!