Florida car accidents cause more than 2,000 fatalities every year, according to statistics from Florida Highway Safety and Motor Vehicles. Of these, at least one-third involve alcohol impairment, and a large number injure pedestrians, motorcyclists and bicyclists. This ultimately puts the car crash fatality rate in Florida at 1.25 deaths per 100 million car miles travelled, which is above the U.S. average.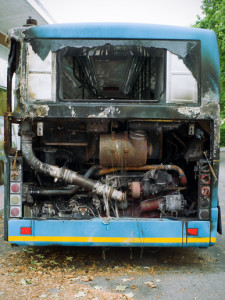 A car crash can leave you and your family in a desperate situation, but if you are suffering from car accident injuries, there are options available. As an innocent car crash victim, you may be able to recover costs for medical bills associated with the crash.
An experienced Miami personal-injury lawyer can evaluate your case to determine if you may have a claim. At Wolfson & Leon, LLP, we have many years of experience with car accident cases, and we will give your case the individual attention it deserves. To schedule a free case evaluation, call us at 305-285-1115 today.
Woman Dies on Disney Property After Bus Crash
The Orlando Sentinel reports that a woman died in a crash with a Disney bus when she ran a red light on Disney property. She was driving a Honda CRV and failed to stop at the traffic light, after which she crashed into a Disney transport bus and another car.
Florida Highway Patrol says the crash was in the early hours of the morning. It happened at an intersection near Disney's resort. There were 20 passengers on the bus at the time; fortunately, none of them suffered injuries.
The driver of the Honda allegedly drove directly into the path of the bus and then spun out into another vehicle. The driver of the third vehicle was not injured. A full investigation into the crash is currently underway.
Brothers Die in Serious Crash on Interstate 95
Sun Sentinel reports that two brothers died in a crash on Florida's Interstate 95 highway. The accident happened late on Saturday night, when the brothers' motorcycle collided with another vehicle that was involved in a separate accident.
The force of the crash ejected the two brothers from their bike. One of the brothers died on the scene after the accident, while the other passed away in the hospital a short while later. The driver of the vehicle involved in the crash also sustained serious injuries.
Both of the motorcyclists were wearing helmets, but officials say the impact was too great for them to survive. An eye witness claims that the brothers must have been travelling in excess of 140 miles per hour before they slammed into the other vehicles.
If you or a member of your family is suffering from injuries after a car or motorcycle crash, you may be able to recover compensation for costs associated with medical treatment and lost income. An experienced Miami personal-injury attorney from Wolfson & Leon, LLP can provide guidance in this matter. Call us today at 305-285-1115 to schedule an appointment.