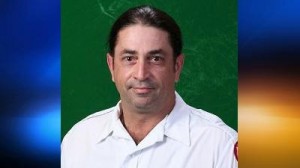 June, 4, 2013, Miami, FL- Motorcyclist love to be on their bikes and want nothing more than to ride, but other motorists can make the roads very dangerous for them. This a reality that a veteran Miami firefighter learned Monday after he was struck by a truck while on his way to work, leaving him critically injured and his colleagues in shock.
Police say that Hector Seiglie was riding along Dixie Highway South at 22nd Avenue at 6:30 a.m. when he was struck by a pickup truck.
One eyewitness, Mario Sanchez told WSVN-TV what he saw, "And the pickup truck just hit him, and I saw the gentleman on the ground."
It was disturbing for his co-workers, who rushed to the scene, unaware that the victim was part of their close-knit family of firefighters.
"You can imagine how hard firefighters worked knowing it was one of their own," Miami Fire Dept. Lt. Ignatius Carroll Jr. told CBS Miami. "He is one of our brother firefighters. So this is family. Anytime someone is hurt in our family, you get a tremendous response."
The pickup driver stayed on the scene and was cooperating with police, but so far no charges have been filed.
Seiglie was transported to Jackson Memorial Hospital where he was listed in critical condition. His bother brother David said he had cuts and bruises along with a few broken ribs, but is expected to make a full recovery.
Seigle's fellow firefighter flocked to hospital to be by their comrade's side.
Motorists are often oblivious to motorcyclists. According to statistics from the NHTSA, motorcyclists are 35 times more likely to be killed in a traffic accident than those in passenger vehicles; bikers lack the same protections than those in vehicles.
Though some bikers' own actions can cause an accident there is an equal number, if not more collisions, that are caused by other negligent drivers who fail to see or yield to motorcyclists. What would be a minor accident for those in a vehicle can end up being a very severe accident for a motorcyclist.
Motorcyclists are prone to serious injuries to the brain and spine when involved in a traffic collision. In some instances, motorcycle accident victims who suffer these injuries never recover and face permanent disability. Broken bones and the dreadful road rash are among the common injuries for motorcyclists, which they can recover from but not without months of rehabilitation and doctors' visits. Many motorcyclists are killed by careless drivers even when they are wearing safety helmets.
With fatal accidents in general on the rise, motorcyclists need to be very careful on Miami streets. When a motorcyclist is harmed by a careless driver they may be worried about how they will pay their medical bills. But they don't have worry because an experienced Miami accident attorney will tenaciously fight to get them a favorable settlement to not only cover their medical bills but also compensate them for their suffering.
Miami injury attorney Jonah Wolfson will devote his skills, time, and energy into your case, with the goal of obtaining a favorable and generous settlement.