Arizona's Department of Transportation (ADOT) recently updated its Bicycle and Pedestrian Plan, which was originally established in 2003. The program intends to increase the infrastructure for pedestrians and bikers along the state highway system in order to allow more people to take advantage of multiple methods of travel.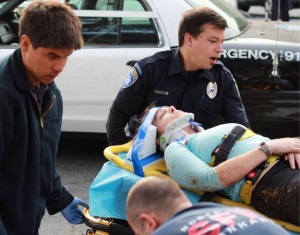 The new plan rolls out at the same time that many cities are reporting their highest number of pedestrian accidents ever. KVOA News reports that a car recently struck an 18-year-old woman as she was crossing the street. People who live near the intersection where the accident occurred said that there is a lack of lighting along that road and not enough marked crosswalks.
The ADOT plan's update will focus on improving safety by modernizing walkways and increasing driver awareness. At Wolfson & Leon we care about pedestrian safety. Below you will find some tips to help avoid causing an accident with a pedestrian. If you have been injured in a car accident with a negligent driver, we can represent your interests in court. To discuss your case, Call Us At 305-285-1115 Today!
1. Be Especially Careful Near Cross Walks
Most drivers understand that pedestrians who are in a crosswalk have the right of way, but many drivers are unsure what constitutes a crosswalk. Some crosswalks are marked with paint or signs, but there are many crosswalks that are unmarked. There is a crosswalk at every corner, so keep an eye out for pedestrians whenever you enter an intersection or pass a corner.
2. Drive Slowly When Backing Out Of A Driveway
Many pedestrian accidents don't occur on the road. It's easy to forget that you are driving over a sidewalk when you pull out of your driveway. Just like pedestrians need to be careful how they cross the street, drivers need to be careful how fast they cross the sidewalk.
3. Slow Down Around Parked Vehicles
Pedestrians are likely to be found wherever there are parked cars. Whether you are in a parking lot or passing a parked bus, make sure you look for people who may be walking between cars or disembarking from the bus. When backing out of a parking spot, don't just check your mirrors; turn your head and look through the window to make sure there is no one behind you.
4. Exercise Caution When Children May Be Present
Children often don't understand what is expected of them as pedestrians. For this reason, you should always be extra alert while driving near school busses and ice-cream trucks and through areas that are usually populated by children, including schools and parks.
As the weather cools enough for people to walk more, there will inevitably be more accidents. If an inattentive driver injures you, don't waste your time trying to negotiate with their insurance company if they argue that you aren't entitled to compensation. Instead, Call Us At 305-285-1115 Today!