Miami, FL- A member of a Miami church was killed Saturday night on the Florida Turnpike just outside Orlando when the van she was traveling in lost control and ejected her.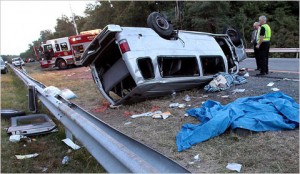 North Miami resident Merlenda Chery, 47, was one of at least 19 people headed to Orlando for a mission trip, when the van driver lost control on the Florida Turnpike.
Authorities believe the tread one of the tires separated causing the rubber to peel away from the rim, which sent the van careening down the busy highway were speeds can range from 50 mph to 75 mph. The van rolled-over several times, though police are unclear at this time how many times, the Orlando Sentinel reported.