Many South Floridians rely on buses and public transportation on a daily basis. But how safe is it for you and your family? What happens if you get injured because of the negligence of a bus driver?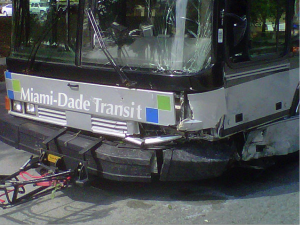 Broward County paid over $6.5 million dollars to settle claims caused by bus drivers from 2008 to 2013. There have been a number of news articles on the safety records of bus drivers in Miami and Broward County. The Sun Sentinel published an expose called "Bad bus drivers stay behind wheel despite many accidents – LENIENT POLICIES AND SLOPPY ENFORCEMENT AT BROWARD COUNTY TRANSIT TO BLAME". With more than 4,500 bus stops and 125,000 daily passengers, Broward County Transit drivers deal with everything from crime to accidents. There is even a database with the incident and accident reports filed with Broward County Transit. The Miami Herald regularly reports on bus accidents causing injuries and sometimes fatalities.
If you or a loved one are injured on a bus it is important to seek the advice of a personal injury attorney. The attorney can first investigate whether the bus was privately or publically owned. This will make a big difference on how your claim moves forward. If it is a public bus, like Broward Transit or Miami-Dade Transit, then your personal injury attorney will send a formal notice as required by law. This notice will begin a six month waiting period while the public agency investigates your claim. If your claim is not resolved in those six months, then you can file a lawsuit. If you do not send the notice, your case can be dismissed until you comply with the statutory notice requirement.